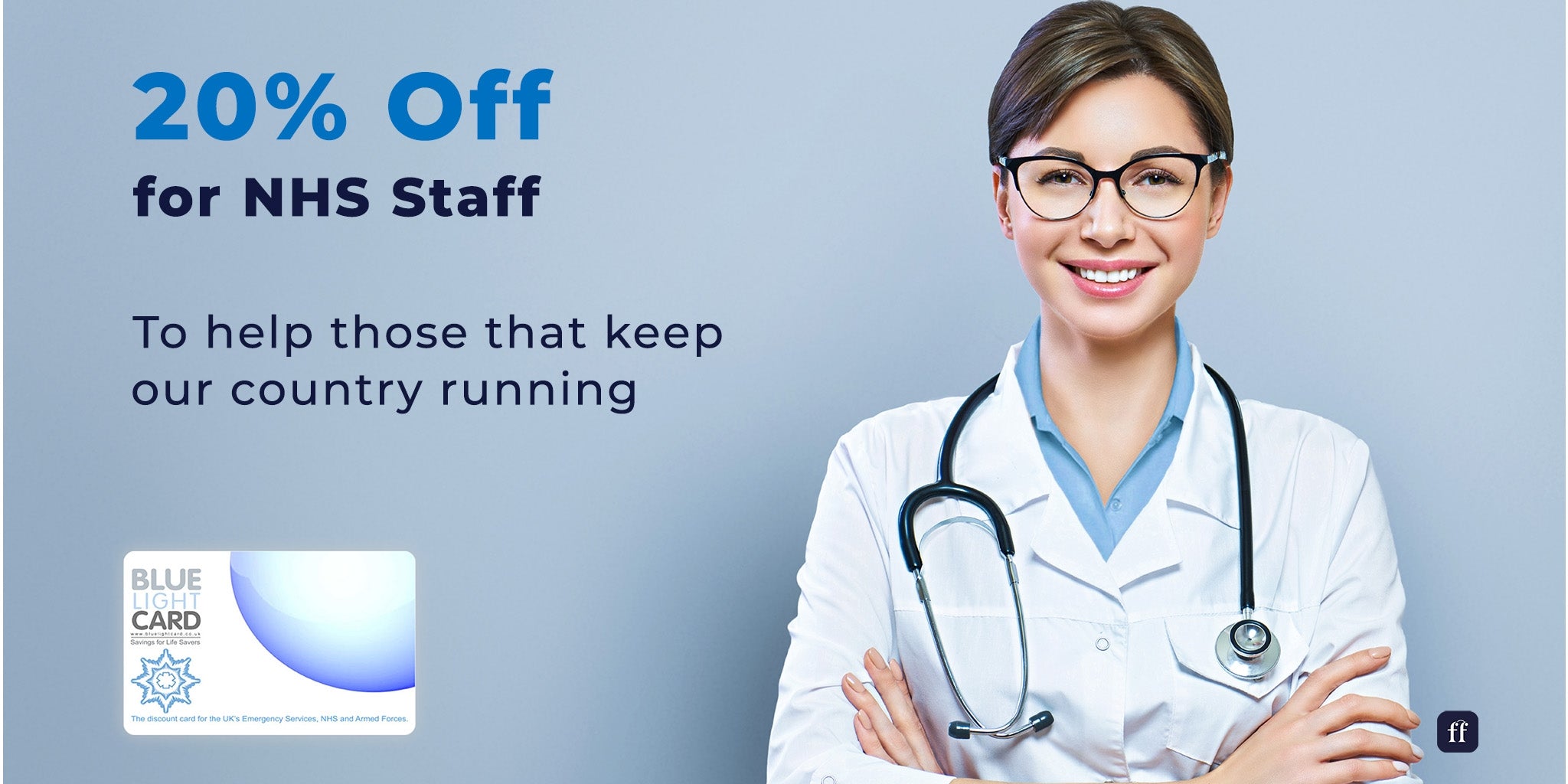 Blue Light Card NHS (BLC) Discount
Framesfoundry are pleased to announce that they have joined up with Blue Light Card NHS (BLC Card) to provide nhs discount on glasses and sunglasses to those in the NHS, Emergency Services and Armed Forces.
The UK has been on lockdown since 23rd March. A vast majority of us were furloughed, some taking time off and some rushing between increased house work and children. A large number of NHS workers and key workers have silently ploughed on to protect the public and themselves.
They have put their lives forward to continue to strive and support the NHS. Some have lost their lives from Covid-19 and others are still fighting the battle for us.
Ten weeks on, as we enter phase two, measures are still in place to contain, protect and prevent further cross transmission. Our NHS workers continue tirelessly on.
Here at Framesfoundry, we have stayed open helping those who were in need of optical services and emergency repairs. It has been a tumultuous time for everyone but together we can stay safe, stay alert and save lives.
To thank NHS workers, Framesfoundry has joined the BLC Card team to offer nhs discount on glasses through our website www.framesfoundry.com. We offer a wide range of glasses online to suit all shapes and sizes. Buying online glasses is an easy process through our website. Simply select a pair that you like, see how it looks on your face with our virtual tryon, enter your prescription and select the lens you want. Finally place your order and the prescription glasses will be prepared and sent to your home. We are offering 20% discount to all members of Blue Light Card and Defence Discount Service.
The 20% discount is available through our website www.framesfoundry.com and applies to all prescription glasses, sunglasses, lenses and accessories.
What Is The Blue Light Card?
The BLC card provides those in the NHS, Emergency Services and Armed Forces with discounts both online and in store. The Blue Light Card NHS also allows small and large companies to get involved with offering a discount and encourage companies in local areas to offer discounts to the NHS, Emergency Services and Armed Forces.
Who Can Register For The Blue Light Card NHS?
Anyone working for the following organisations can register for the free online Blue Light Card to receive discounts from online retailers:
4×4 Response
Ambulance Service
Blood Bikes
Border Force
British Army
Cave Rescue
Community First Responders
Fire Service
Highways Agency
HM Armed Forces Veterans
HM Coastguard
HM Prison Service
Immigration Enforcement
Lowland Search and Rescue
MoD Civil Servant
MoD Fire Service
MoD Police
Mountain Rescue
NHS
Police
Red Cross
Reserve Armed Forces
RNLI
Royal Air Force
Royal Marines
Royal Navy
Search and Rescue
Second Line Responders
St Andrews Ambulance
St John Ambulance
UK Visas and Immigration
How To Use the BLC Card Discount?
If you work for NHS, Emergency Service or Armed Forces, you can download the BLC Card mobile application and install it on your phone. Once registered, search for Framesfoundry in the BLC card app and find the discount code. Then visit our website www.framesfoundry.com and search for your favourite pair of glasses and enter the discount code during the checkout. Our team will pick up your order and your new pair of glasses will be on their way to you.